Microsoft Power Apps empowers operations leaders and professionals to solve operational challenges faster, while meeting stringent requirements for security and governance in the Aerospace and Defense industry. Power Apps can enable them to digitize transactions in ways that reduce risk and operational variance for ISO and CMMI. Digitizing processes makes them measurable and repeatable, leading to continuous improvement and increasing levels of process excellence for your DoD customers.
Many organizations in the Defense Industrial Base (DIB) move to Office 365 GCC High and use Power Apps within this platform because it meets underlying compliance needs.

FedRAMP High
DISA Impact Level 4

Provisioned in accordance with the National Institute of Standards and Technology (NIST) Special Publication 800-145

US Data Location and US Persons Administration

Power Apps in GCC High requires the customer to leverage Azure AD Government for customer identities, in contrast to GCC which leverages Public Azure AD. For DoD contractors, Microsoft openly states that they operate the service in a manner that enables these customers to meet ITAR commitments and DFARS acquisition regulations, as documented and required by their contracts with the US Department of Defense. Power Apps and other Power Platform capabilities can be configured for CMMC compliance as well.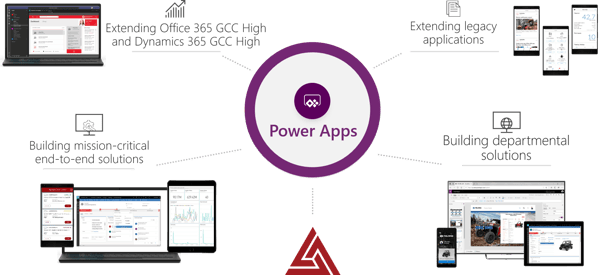 Power Apps is one of the key products in the Power Platform and generally available in Microsoft 365 GCC High. Power Apps can enable workflow and process automation for U.S. government agencies and contractors to advance the mission.
Power Apps greatly reduces the amount of effort and investment required to create custom apps to solve your challenges and the Government's. Integrate data from 50+ connectors and tap into the Common Data Service (CDS integration coming soon) with enterprise scale security and governance.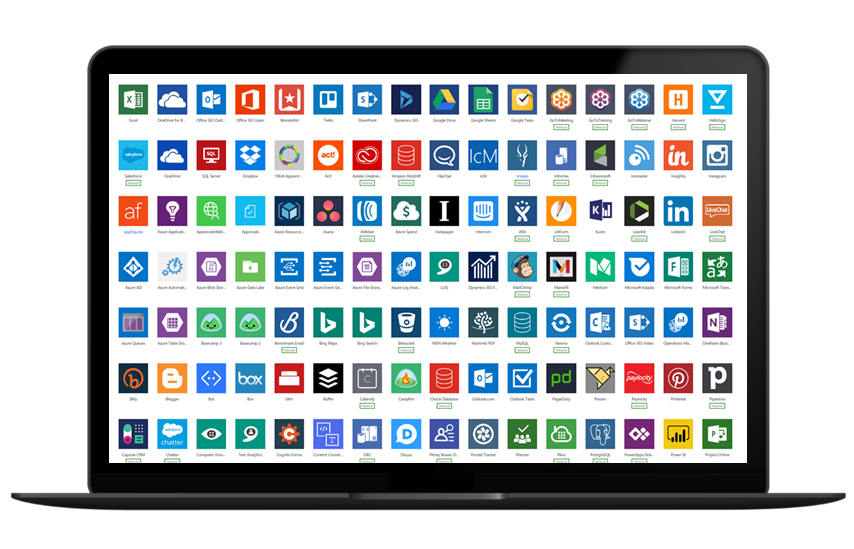 Power Apps Licensing Options in GCC High
Power Apps Per User
Power Apps Per App
Feature Parity and Limitations
As a result of heightened security, data segregation, and engineering nuances associated with Microsoft's fully sovereign cloud offering, feature releases may lag compared to the commercial and GCC offerings of Office 365/Microsoft 365. Below is a sampling of these limitations:
Activities and events relating to Power Apps are not yet being captured in the Security and Compliance Center's audit logs.

No support for third-party

connections

(I.e.

Adobe Sign

,

Asana

, GitHub, etc.)
Limited support for first-party (Microsoft)

connections

.
A few missing connectors include Excel

and

OneDrive for Business.

A listing of available connections can be found

by navigating to

https://make.high.powerapps.us/

and

then clicking

Data > Co

nnections > New Connection
No support for

Push notifications

.

No support for embedding Power Apps within SharePoint via

the

Power Apps W

eb-

P

art

or in Teams via a Tab

.

Contact us for a current workaround.
Power App Portals

are not yet supported in GCC High

.

Power Query

Dataflows in Power Apps

CDS analytics

AI Builder
Summit 7 is focused on migrating Government Contractors into Office 365 GCC High and Azure Government, and modernizing existing SharePoint, Nintex, and other third-party workflows/forms to Microsoft's enhanced digital capabilities with Power Apps. Feel free to complete the form on this page to schedule a meeting and discuss licensing options, your strategy for transforming legacy SharePoint workflows and securing new or existing workflows.