CUI: The Complete Guide to Controlled Unclassified Information
What Is Controlled Unclassified Information (CUI)?
Controlled Unclassified Information (CUI) is information the Government creates or possesses, or that an entity creates or possesses for or on behalf of the Government, that a law, regulation, or Government-wide policy requires or permits an agency to handle using safeguarding or dissemination controls.
CUI can include a wide range of information, such as personal information, proprietary information, or information that is considered critical to national security.
It is important to properly handle CUI to ensure that it is not inadvertently disclosed to unauthorized individuals.
How do I protect CUI?
Implement NIST SP 800-171 if you have not already done so.

Prepare for third-party (C3PAO) or government-led assessments.

Reach out to a service provider who is able to help you identify CUI and provide next steps for CMMC 2.0 compliance.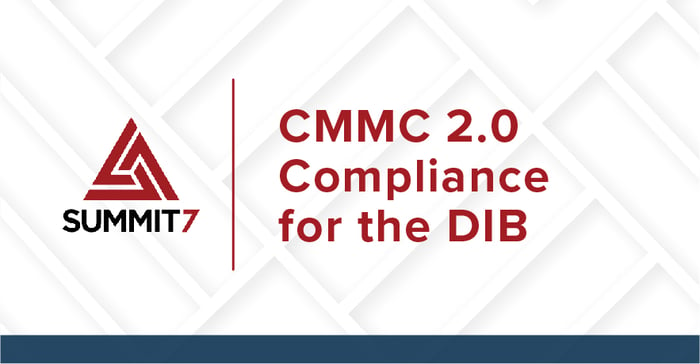 Should my business spend money before CMMC 2.0 rules are established?
Protecting CUI with Microsoft 365
Free On-Demand Webinar: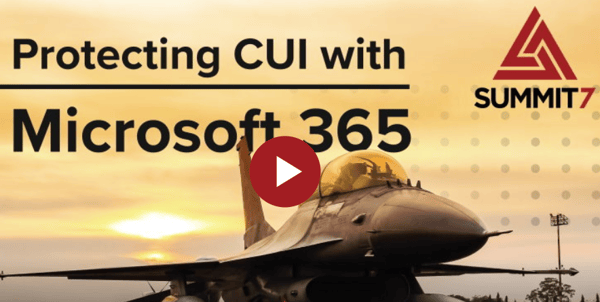 Many contractors in the DoD supply chain have already chosen to handle sensitive data such as CUI and ITAR data in the Microsoft Government Cloud. Microsoft has two versions of M365 that are suited for handling CUI, Microsoft 365 GCC High and Microsoft 365 GCC.
GCC High is not required to meet CMMC 2.0 at any Level. However, Microsoft's official recommendation is for organizations planning or required to meet CMMC 2.0 Level 2 (formerly CMMC 1.0 Level 3) should deploy to Microsoft 365 GCC High.
Resources for getting started with protecting CUI in Microsoft Government:
The graphic below represents the Microsoft Platform as it relates to relevant compliance frameworks such as CMMC, DFARS 7012, ITAR regulations.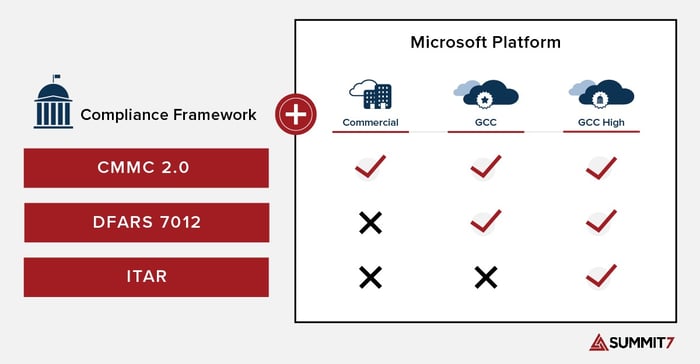 DoD Mandatory CUI Training Study Questions
DoD Mandatory Controlled Unclassified Information (CUI) Training is a comprehensive training program implemented by the U.S. Department of Defense (DoD) to educate its personnel on the proper handling, protection, and dissemination of Controlled Unclassified Information.
The training covers topics such as identifying CUI, marking and handling procedures, storage and transmission protocols, incident reporting, and the consequences of mishandling CUI.
By completing this mandatory training, DoD personnel contribute to the overall protection of critical data, maintaining national security, and promoting responsible information management practices.
Below are questions to prepare you for the DoD Mandatory CUI Training:
Information may be CUI in accordance with

a law, regulation, or government-wide policy

.

The correct banner marking for UNCLASSIFIED documents with CUI is

CUI

.

The correct banner marking for a co-mingled document containing TOP SECRET, SECRET,

and CUI is

TOP SECRET

.

I don't have a security clearance, so I don't have to get a pre-publication review.

FALSE

In order to obtain access to CUI, an individual must first have

a lawful government purpose.

Who is responsible for applying CUI markings and dissemination instructions?

Authorized holder of the information at the same time of creation

At the time of creation of CUI material, the authorized holder is responsible for determining:

CUI category, CUI markings, and dissemination instructions

What is the purpose of the ISOO CUI Registry?

A government-wide online repository for Federal-level guidance regarding CUI policy and practice

It is mandatory to include a banner marking at the top of the page to alert the user that CUI is present.

True

What is Controlled Unclassified Information (CUI)?

Unclassified information requiring safeguarding and dissemination controls, pursuant to and consistent with applicable laws, regulations, and governmentwide policies

Administrative, civil, or criminal sanctions may be imposed if there is an Unauthorized Disclosure (UD) of CUI.

True

What level of system and network configuration is required for CUI?

Moderate confidentiality

CUI documents must be reviewed according to which procedures before destruction?

Records Management

What is the goal of destroying CUI? To make it unreadable, indecipherable, and unrecoverable
What is CUI Specified?

The subset of CUI in which the authorizing law, regulation, or government-wide policy contains specific handling controls that it requires or permits agencies to use

What is CUI Basic?

The subset of CUI for which the authorizing law, regulation, or government-wide policy does not set out specific handling or dissemination controls

What marking (banner and footer) acronym (at a minimum) is required on a DoD document containing controlled unclassified information?

CUI

Who can decontrol CUI?

OCA, if in a Security Classification Guide, or the designated office for decontrolling

What DoD Instruction implements the DoD CUI program?

DoDI 5200.48, Controlled Unclassified Information

Who is responsible for protecting CUI?

DoD military, civilians, and contractors
Frequently Asked Questions About Controlled Unclassified Information (CUI)
Does a picture of a part or part number related to an ITAR drawing qualify as CUI?
Is a part number taken from an ITAR drawing and then used in the company's ERP system to support considered CUI?
If a CMMC required client has no desire to keep any CUI in the cloud or email is GCC or GCC High necessary?
What is a good approach for commercial companies that have only a small part of their business that handles ITAR data?
How does a company manage CMMC when they utilize 3D CAD systems such as SolidWorks or Fusion?
Does Summit 7 ever recommend Microsoft 365 Commercial plus PreVeil or bolt-on email drive for CUI?
How can I know for sure if we need to meet CMMC level 1 or CMMC level 2?
Do you no longer need your on-premises server if you move towards Microsoft 365 GCC or GCC High?
Does an MSP supporting a GCC High client require CMMC certification?
What causes Microsoft Commercial to fail to meet the requirements for NIST 800-171?
Do we still need the Microsoft Government cloud if we are encrypting sensitive emails and not using SharePoint to store data?
Migrating from Microsoft Commercial to Microsoft GCC High, are there any steps that are different from migrating to Microsoft GCC?
Is there a way to configure Google for compliance with CMMC Level 2?
Let's Talk about How to Handle CUI