What Is Controlled Unclassified Information (CUI)?
Controlled Unclassified Information (CUI) is information the Government creates or possesses, or that an entity creates or possesses for or on behalf of the Government, that a law, regulation, or Government-wide policy requires or permits an agency to handle using safeguarding or dissemination controls.
CUI can include a wide range of information, such as personal information, proprietary information, or information that is considered critical to national security.
It is important to properly handle CUI to ensure that it is not inadvertently disclosed to unauthorized individuals.
How do I protect CUI?
Implement NIST SP 800-171 if you have not already done so.

Prepare for third-party (C3PAO) or government-led assessments.

Reach out to a service provider who is able to help you identify CUI and provide next steps for CMMC 2.0 compliance.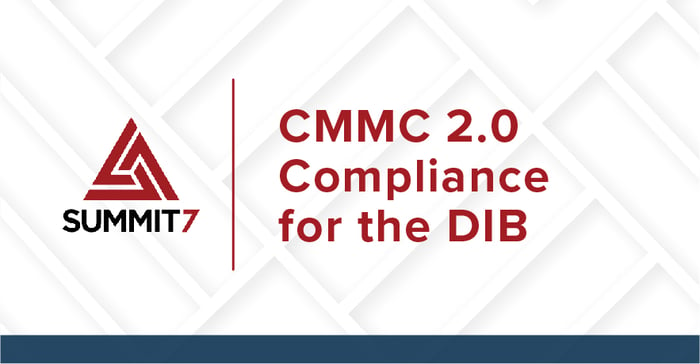 Should my business spend money before CMMC 2.0 rules are established?
Protecting CUI with Microsoft 365
Many contractors in the DoD supply chain have already chosen to handle sensitive data such as CUI and ITAR data in the Microsoft Government Cloud. Microsoft has two versions of M365 that are suited for handling CUI, Microsoft 365 GCC High and Microsoft 365 GCC.
GCC High is not required to meet CMMC 2.0 at any Level. However, Microsoft's official recommendation is for organizations planning or required to meet CMMC 2.0 Level 2 (formerly CMMC 1.0 Level 3) should deploy to Microsoft 365 GCC High.
Resources for getting started with protecting CUI in Microsoft Government:
The graphic below represents the Microsoft Platform as it relates to relevant compliance frameworks such as CMMC, DFARS 7012, ITAR regulations.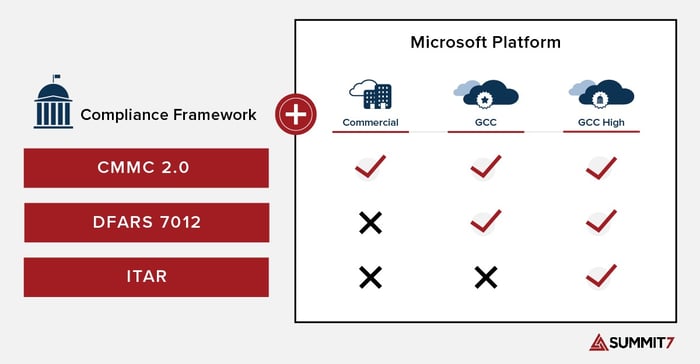 CS2: CMMC Industry Days
What Is CS2?
CS2, or The Cloud Security and Compliance Series, is an ongoing informational series for contractors in the Defense Industrial Base looking to meet federal compliance mandates and protect CUI. These hybrid events are specifically curated towards aerospace and defense contractors and those in higher education institutions looking for practical approaches to address security threats, invest in the culture of cybersecurity for their organization, and glean best practices for their cloud investments.
Areas of focus for CS2 events include, but are not limited to
Frequently Asked Questions About Controlled Unclassified Information (CUI)
Does a picture of a part or part number related to an ITAR drawing qualify as CUI?
Is a part number taken from an ITAR drawing and then used in the company's ERP system to support considered CUI?
If a CMMC required client has no desire to keep any CUI in the cloud or email is GCC or GCC High necessary?
What is a good approach for commercial companies that have only a small part of their business that handles ITAR data?
How does a company manage CMMC when they utilize 3D CAD systems such as SolidWorks or Fusion?
Does Summit 7 ever recommend Microsoft 365 Commercial plus PreVeil or bolt-on email drive for CUI?
How can I know for sure if we need to meet CMMC level 1 or CMMC level 2?
How many of the 320 assessment objectives in NIST 800-171A does Summit 7 claim to fulfill for their MSSP clients?
Do you no longer need your on-premises server if you move towards Microsoft 365 GCC or GCC High?
Does an MSP supporting a GCC High client require CMMC certification?
What causes Microsoft Commercial to fail to meet the requirements for NIST 800-171?
What is involved in a migration?
Do we still need the Microsoft Government cloud if we are encrypting sensitive emails and not using SharePoint to store data?
Migrating from Microsoft Commercial to Microsoft GCC High, are there any steps that are different from migrating to Microsoft GCC?
Is there a way to configure Google for compliance with CMMC Level 2?
Let's Talk about How to Handle CUI