Download the Summit 7 Shared Responsibility Matrix here
Aerospace and Defense organizations supporting the Department of Defense (DoD) are moving to external services providers to satisfy current DoD requirements such as CMMC 2.0, NIST 800-171, and DFARS 7012. These suppliers are faced with critical decisions when it comes to outsourcing compliance because of industrial complexities and the potential lack of operational resources.

CMMC 2.0 requires
contractors and those handling sensitive data (
CUI
/
CDI
/CTI/
ITAR
) on behalf of the DoD to define obligations and responsibilities when using external service providers for current compliance mandates.

A proper Shared Responsibility Matrix (SRM) is the #1 indicator of your likelihood to pass a CMMC assessment

An SRM is required for CMMC 2.0 compliance (by assumption and reference)

An SRM provides assurance to both assessors and business owners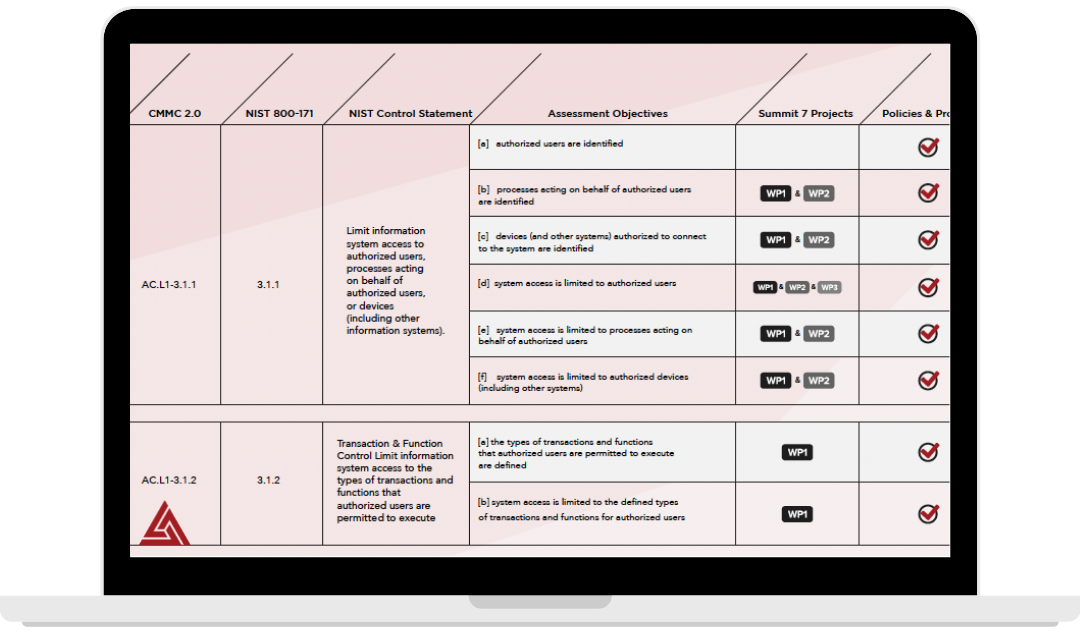 The goal of this guide is to equip readers with answers to the following questions:

What % of responsibility does my organization have if we're using external service providers for compliance?

What questions should I be asking my Managed Service Provider (MSP)?

Why am I required to have a Shared Responsibility Model / RACI Matrix for CMMC 2.0 compliance?
Key insights in this download:
The responsibility of external service providers and organizations seeking certification (OSCs) are clearly defined for successful completion of CMMC assessments



The Summit 7 team analyzed the 1,524 assessable objects listed NIST SP 800-171A to determine correct RACI assignments



This download highlights Summit 7 work packages that address large percentages of the assessment objectives defined in CMMC 2.0 and NIST 800-171
If you have any questions you can contact our team here.
*Please note: the version of the SRM you are downloading is not the complete version needed to successfully pass a CMMC assessment. This is a high-level summary of what Summit 7 MSP clients receive.
Achieving CMMC 2.0 Compliance With The Shared Responsibility Model