Summit 7 Invests In The Future of Classified IT Managed Services and Compliance with Acquisition of CSW Systems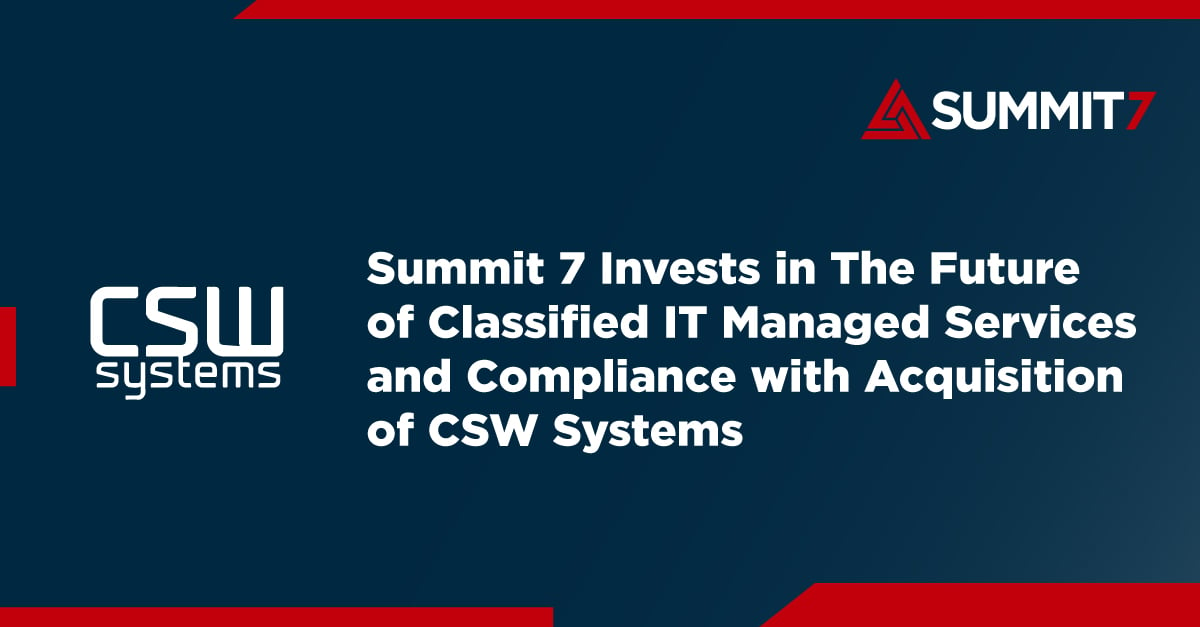 HUNTSVILLE, AL - Summit 7, the leading provider of cybersecurity and compliance services for the Defense Industrial Base, is proud to announce the acquisition of CSW Systems, the leading provider of managed services and continuous compliance support for classified data processing facilities. This acquisition will further enable Summit 7 to provide services regarding Classified initiatives in the Department of Defense (DoD) and Intelligence Community (IC) supply chains.

This strategic acquisition further solidifies Summit 7's position as a comprehensive provider of cutting-edge solutions for the DoD, IC, and its affiliated contractors. The combined expertise of Summit 7 and CSW Systems will result in enhanced classified capabilities and a broader range of services for clients providing the same level of service for IL6 (Impact Level 6) requirements that Summit 7 currently provides for IL4 (Impact Level 4) requirements.
"We are thrilled to welcome the talented team at CSW Systems into the Summit 7 team," said Scott Edwards, CEO at Summit 7. "Their proven track record of delivering high-quality, security and compliance-focused services aligns seamlessly with our commitment to excellence and great customer relationships. Together, we are poised to deliver even greater value to our clients across the DoD and IC ecosystem."
Curtis Nare, CEO at CSW, expressed enthusiasm about the acquisition, stating, "We couldn't be more excited about our partnership with Summit 7 for both employees and customers. The alignment represents a significant milestone for CSW, and we look forward to the ability to offer even greater value to existing, and future customers. Joining this team strengthens our mutual belief that a secure supply chain is the backbone of national security."
About Summit 7
Summit 7 is a nationally recognized leader in cybersecurity and compliance solutions for the Aerospace and Defense industry and corporate enterprises. With their extensive expertise in Microsoft Cloud solutions, Summit 7 helps organizations meet compliance requirements, including CMMC, DFARS, NIST 800-171, ITAR, and CUI data.
About CSW
Since its establishment in 2011, CSW Systems has been at the forefront of delivering critical IT solutions and services with offices in both the Washington DC and Denver Metro areas as well as serving clients across the nation. Their expertise lies in cybersecurity solutions tailored for clients handling sensitive and classified information within the intelligence community.