Summit 7 Recognized as a 2024 Vet100 Honoree for the Third Consecutive Year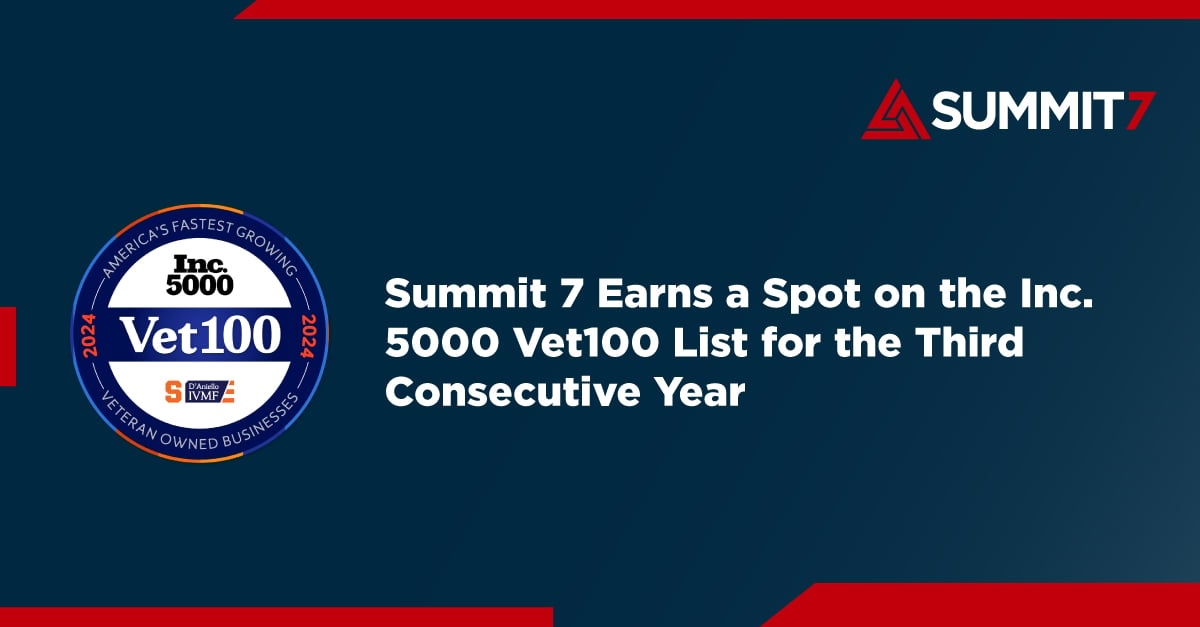 Huntsville, Ala. — Summit 7 is proud to announce its selection as a 2024 Vet100 honoree. This prestigious accolade, presented in partnership between the Institute for Veterans and Military Families (IVMF) and Inc., acknowledges the 100 fastest-growing veteran-owned and -operated businesses across the United States.
The Vet100 honor marks the third consecutive year that Summit 7 has been recognized for its outstanding growth and contributions to the business community. The recognition culminates with the highly anticipated Vet100 Dinner and Awards Ceremony, a flagship event held during the annual Veteran EDGE Conference.
As a Vet100 honoree, Summit 7 is at the forefront of a distinguished group of businesses that exemplify the entrepreneurial spirit, dedication, and innovation of veteran-owned enterprises. This achievement not only reflects the company's commitment to excellence but also underscores its significant impact on the industry and the wider community.
"We are deeply honored to be named on the 2024 Vet100 honoree list for the third consecutive year. This recognition reaffirms our commitment to excellence, innovation, and growth, and serves as a testament to the hard work and dedication of our team," said Scott Edwards, CEO at Summit 7. "We are grateful to the IVMF and Inc. for their ongoing support, and we look forward to continued success and growth in the years ahead."
Summit 7 extends its heartfelt thanks to its dedicated team members, valued clients, and partners for their unwavering support, without which this achievement would not have been possible.
About Summit 7
Summit 7 is a nationally recognized leader in cybersecurity and compliance solutions for the Aerospace and Defense industry and corporate enterprises. With their extensive expertise in Microsoft Cloud solutions, Summit 7 helps organizations meet compliance requirements, including CMMC, DFARS, NIST 800-171, ITAR, and CUI data.
For more information about Summit 7 and their Advanced Specializations, please visit their website at www.summit7.us