Summit 7 Attains 5 Microsoft Solution Partner Designations, 9 Advanced Specializations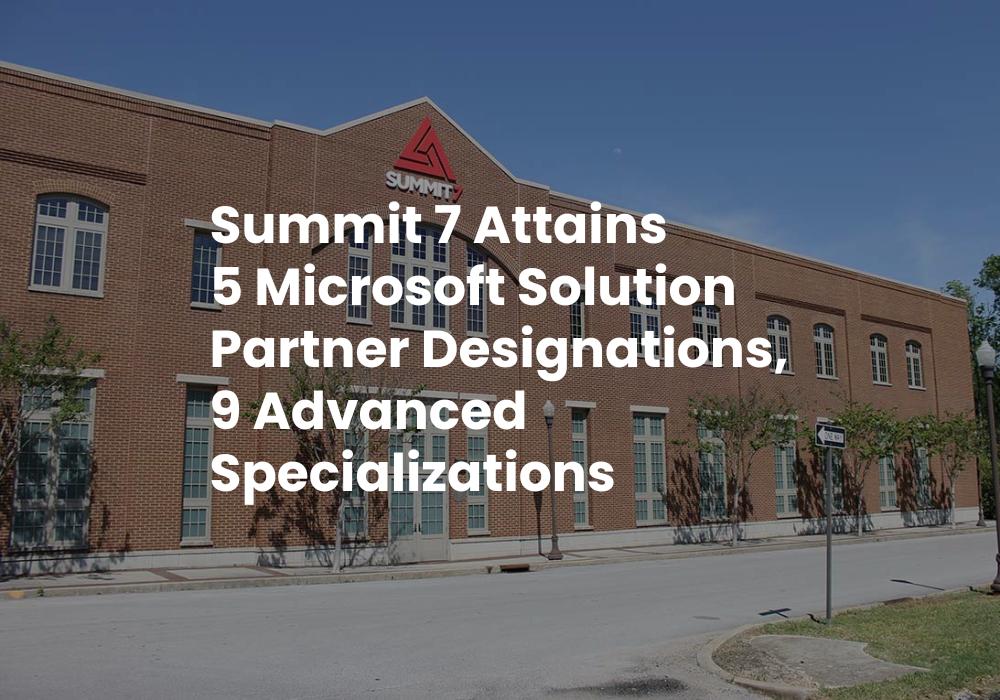 HUNTSVILLE, Ala., May 22, 2023 /PRNewswire/ -- Summit 7 is pleased to announce that the company has now attained five Microsoft Solution Partner designations: Modern Work, Security, Infrastructure (Azure), Digital App & Innovation (Azure), and Data & AI (Azure). Microsoft Solution Partner Designations are anchored on the Microsoft Cloud in six solution areas and is based on a composite partner capability score that measures performance, skilling, and customer success.

As a Microsoft Solutions Partner, Summit 7 has access to a wide range of resources and support from Microsoft. This includes advanced training, technical support, and access to Microsoft's extensive network of partners and customers.
In addition to attaining five Microsoft Solution Partner designations, Summit 7 has earned nine advanced specializations: Cloud Security, Threat Protection, Modernize Endpoints, Infra and Database Migration, Microsoft Windows Virtual Desktop, Calling for Microsoft Teams, Meeting and Meeting Rooms for Microsoft Teams, Teamwork Deployment, and Adoption and Change Management.
"We are thrilled to have attained these designations and advanced specializations from Microsoft," said Scott Edwards, CEO of Summit 7. "This recognition is a testament to the dedication of our team and validates our extensive work of providing customers with end-to-end collaboration and security solutions based on Microsoft security and compliance capabilities in Microsoft 365 and Azure Government."
The Microsoft Solutions Partner designations and advanced specializations are just the latest in a series of achievements for Summit 7. The company was also recognized as Microsoft's 2022 US Partner of the Year for Compliance.
About Summit 7
Summit 7 is a national leader in cybersecurity, compliance, and managed services for the Aerospace and Defense industry and corporate enterprises. Summit 7's Microsoft Cloud solutions have led the way in meeting compliance regulations for the DIB regarding CMMC, DFARS, NIST 800-171, ITAR, and CUI data. Summit 7 Systems is privately held and headquartered in Huntsville, Alabama.