3 Benefits of Using Microsoft Azure To Protect Controlled Unclassified Information (CUI)
Sam Stiles
Published Apr 25, 2023
Last Updated Apr 25, 2023
It is critical to protect CUI, especially for DoD contractors that work for the Department of Defense. In this article, we'll explore the benefits of using Azure Government to protect CUI.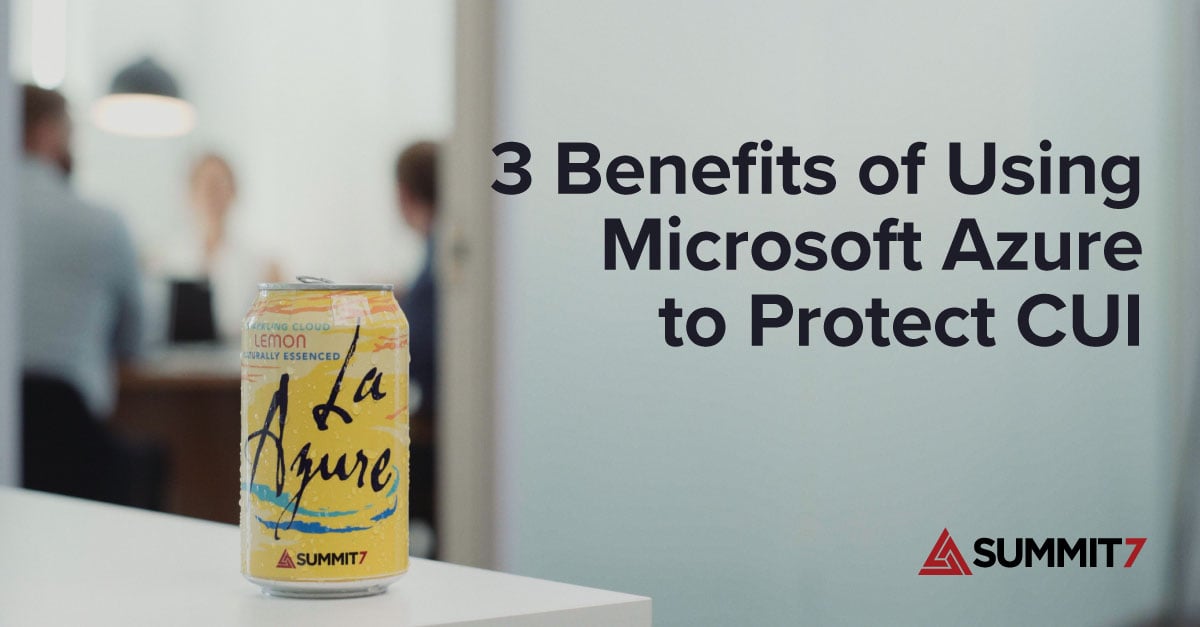 Controlled Unclassified Information (CUI) is a type of critical data for many organizations, especially contractors that currently support the Department of Defense. Under current compliance mandates, it is essential to keep this data secure, and Microsoft Azure Government is one of the most cost-effective, scalable, comprehensive, and flexible ways to protect sensitive data.
In this article, we'll explore the benefits of using Azure Government to protect CUI:
Its cost-effectiveness
Its comprehensive security and threat detection capabilites
Its ability to automate compliance initiatives

What is Microsoft Azure?
Microsoft Azure is a cloud computing platform and service created by Microsoft for building, deploying, and managing applications and services through a global network of Microsoft-managed data centers. Microsoft Azure is what is referred to as a Platform-as-a-Service (Paas), and an Infrastructure-as-a-Service (Iaas).
Azure offers a wide range of services for virtualization, including virtual machines, containers, and serverless computing. Additionally, Azure provides services for identity and access management, as well as security and compliance. Azure is often used by businesses and organizations of all sizes, as it allows them to scale their resources and services as needed, while also providing a high level of security and compliance. This makes it a popular choice for mission-critical applications and services, and many companies choose to use Azure as their primary cloud computing platform.





Microsoft Azure in the Government Cloud
Microsoft Azure Government provides the controls for data encryption, including support for customer-managed encryption keys stored in FIPS 140-2/3 validated hardware security modules (HSMs) managed by Azure Key Vault. According to Microsoft documentation, an accredited 3PAO, referred to as a FedRAMP Asessor, has attested that Azure Government does, in fact, meet the applicable requirements of DFARS 7012 and CMMC, or the applicable clauses for Defense Industrial Base contractors handling CUI.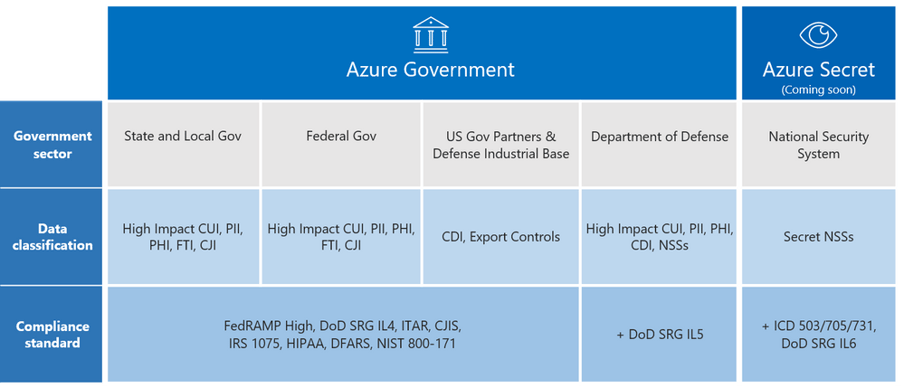 Is CUI Really That Important?
Controlled Unclassified Information (CUI) is information the Government creates or possesses, or that an entity creates or possesses for or on behalf of the Government, that a law, regulation, or Government-wide policy requires or permits an agency to handle using safeguarding or dissemination controls. CUI can include a wide range of information, such as personal information, business proprietary information, or information that is considered critical to national security. It is important to properly handle CUI to ensure that it is not inadvertently disclosed to unauthorized individuals.
The proper management of CUI is critical for organizations to protect their customers' data, adhere to regulations and laws, comply with contractual obligations, and maintain their competitive advantage in the marketplace. Making sure the safe storage and transfer of CUI is a complex task due to its sensitivity and potential for misuse if it falls into the wrong hands. As such, organizations must have reliable systems in place to protect this type of data at all times. When trying to determine if your organization has CUI, try asking yourself these questions:
C

– Is the data originally

Created

by the government and provided to you in association with the contract?

U

- Is the data going to be

Used

to deliver your contractual responsibilities to the government?

I

- Can the data type be

Identified

within the sub-categories listed on the

NARA CUI registry

?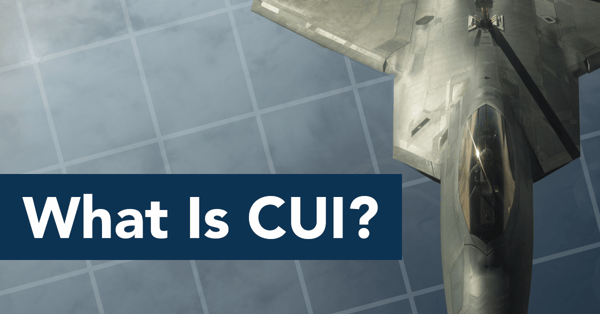 Benefits of Using Microsoft Azure Gov to Protect CUI
Cost-Effectiveness
Comprehensive Security and Threat Detection
Automation and Compliance
Microsoft Azure Government provides an ideal platform for securely managing CUI due to its comprehensive array of features including advanced security capabilities like encryption at rest, end-to-end encryption with TLS/SSL (FIPS 140-2 validated) connections between services, role-based access control (RBAC), identity management integration with 3rd party services and applications, multi-factor authentication (MFA), automated compliance checks using Azure Policy Insights, unified threat protection using Azure Security Center and more.
These features ensure that CUI remains secure when stored on Microsoft Azure while simultaneously providing organizations with the scalability they need to effectively manage large datasets.
Saving Money Is Cool, Right?
With Microsoft Azure, organizations can easily scale up or down their IT infrastructure depending on their requirements and budget. This allows them to get the best value for money and reduce their operational costs by avoiding unnecessary spending on hardware and software. Additionally, Microsoft Azure offers pay-as-you-go pricing models with no upfront investment or long-term contracts, making it an excellent choice for contractors looking for an affordable and compliant solution. It also affords contractors the ability to control access to data, limiting data leaks while also keeping organizational costs low.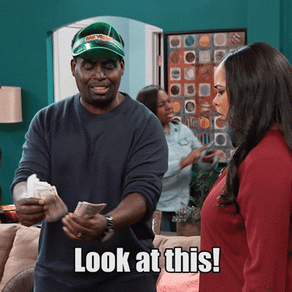 Azure Is Straight Up Secure and Always Looking
Microsoft Azure has a wide range of built-in security controls that help organizations protect CUI from unauthorized access and malicious attacks. These include authentication systems, encryption protocols, identity management tools, threat detection systems, and more. Also, Microsoft Azure also provides continuous monitoring capabilities so organizations can quickly identify any potential security threats before they become a problem.


Leveraging Azure, Microsoft and Summit 7 use Microsoft Sentinel (SIEM), Microsoft 365 Defender, and Defender for Cloud for extended detection and response (XDR) capabilities to look across virtual machines, identities, cloud-native apps, and others to detect and respond to threats in real-time (MXDR).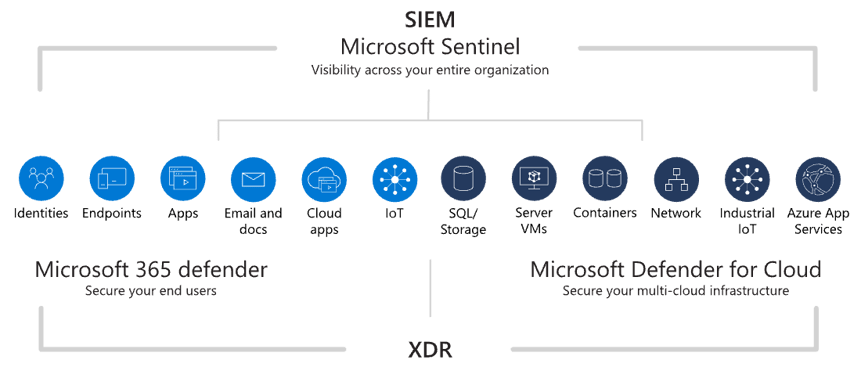 Using Microsoft Sentinel for XDR (MXDR), Azure continuously monitors its systems for any suspicious activity or anomalous behavior that could indicate a potential breach of security or unauthorized access attempts - this process is known as 'Threat Detection'. With threat detection capabilities enabled on an organization's cloud environment, all activities are tracked which allows administrators to quickly identify potential threats before they become serious issues. Additionally, if any malicious actions are detected by their system then automated responses can be triggered which will immediately take action against the attack vector before it causes any further damage or disruption to operations.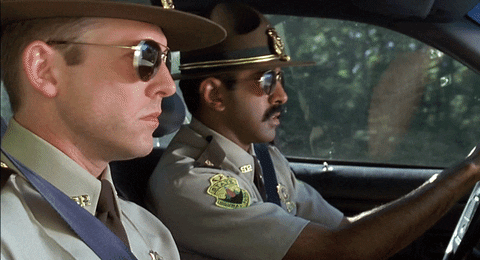 Microsoft Azure Gov has earned numerous compliance certifications such as ISO/IEC 27001:2013, ISO/IEC 27018:2019, PCI DSS 3.2, SOC 2 Type 1, HIPAA/HITECH, CJIS Security Policy 5th Edition, FedRAMP High Baseline Certification Authority (CA), etc., making it one of the most secure cloud computing solutions available today.
Work Smarter, Not Harder with Automation
Azure provides automated compliance tools that can help organizations stay up-to-date with the latest regulations such as DFARS and CMMC Compliance. These tools also enable organizations to quickly respond to audits or other requests for information with minimal effort or disruption to operations. Leveraging Azure Security Center and Compliance Manager, organizations can quickly continue day-to-day activities while staying current with existing security and compliance requirements.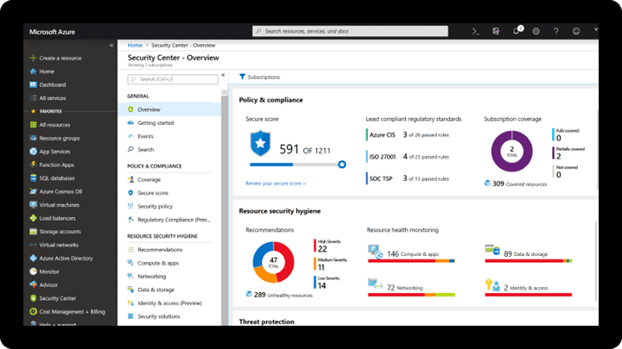 You can view more of Microsoft's leverage of Azure Gov for CMMC compliance by downloading the CMMC placement.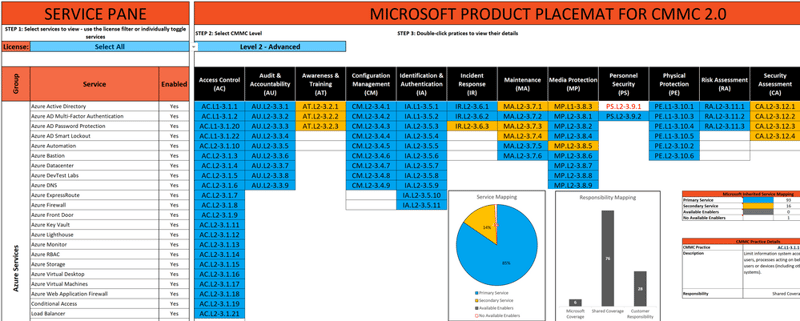 Overall, it's clear that there are numerous benefits associated with using Microsoft Azure Gov Cloud to protect CUI. By leveraging its cost savings, comprehensive security features, and automation & compliance capabilities - organizations can be sure they are taking every necessary step towards protecting sensitive data while reducing operational costs in the process.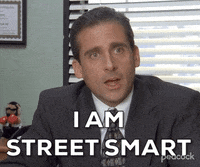 Top Reasons Contractors Rely on Azure Government
CMMC, DFARS, and ITAR compliance
Compliant managed services and managed security services
Moving databases and web applications to the cloud
End of Life (Hardware/OS)
Scalable to meet contractor needs
FedRAMP environment
MXDR capabilities for threat detection and response
How Summit 7 Uses Microsoft Azure to Help Contractors
Overall, Microsoft Azure Government offers a range of benefits that make it the most effective way to protect Controlled Unclassified Information (CUI). Organizations can get the best value for money while ensuring their sensitive data is secure from unauthorized access. All in all, Microsoft Azure Government is an excellent choice for any organization looking to protect CUI securely and cost-effectively.
Get the latest CMMC
news first →
Subscribe Here!